School Calendar Report an Absence Latest Newsletter Contact the Principal
Enrolment Booklet Chromebooks for 2020 Ask us a question. 2020 Uniform Information
Download the school App here. Raise a concern/ Send a compliment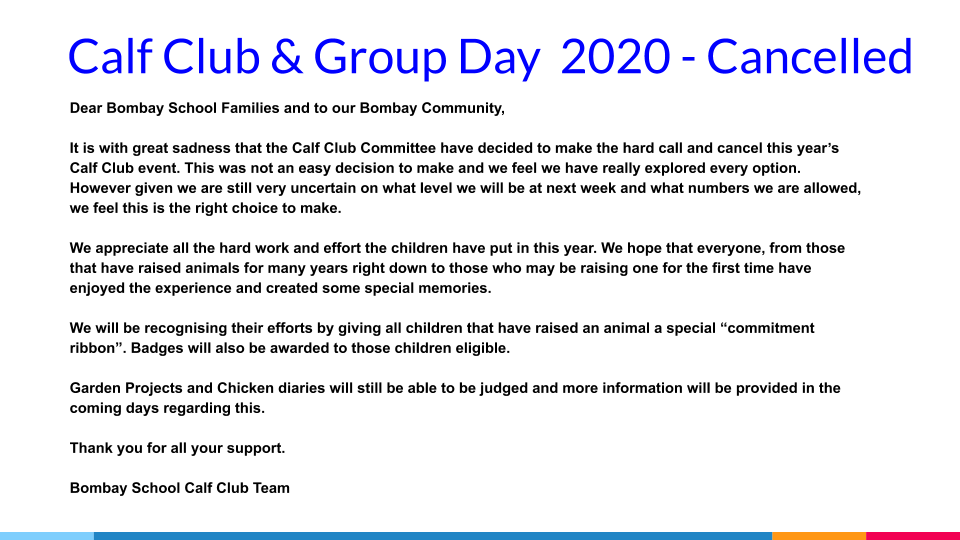 Key messages from the Prime Minister's COVID-19 announcement
The Prime Minister has advised the outcome of the review of alert level settings made by Cabinet.
From 11.59pm Wednesday 23 September, Auckland will move to a full Alert Level 2 setting (no additional restrictions). This level will be in place for 14 days (1 transmission cycle).
The remainder of New Zealand moves to Alert Level 1 from 11.59pm tonight, 21 September.
Cabinet will meet again on Monday 5 October to review alert level settings. If New Zealand remains on track (continuing as we are now), the intention is for Auckland to also move to Alert Level 1 on Wednesday 7 October.
For those in Auckland
The key change will be limits on social gatherings will increase from 10 to 100.
Face coverings remain required to be worn on public transport (but not for children under 12, and does not apply to school transport).
Face coverings will be required to be worn on any planes going to, from or through Auckland.
Aucklanders are asked to take their alert level settings with them when they travel outside the region, including large scale gatherings.
For those outside Auckland
For air travel you are not required to wear a face covering, (if not travelling to, through or from Auckland), but you are encouraged to do so for your safety and the safety of those around you. Consider doing the same for all inter-regional travel.
For everyone
Please continue to stay home if you are sick and get tested if recommended to do so.
Maintain good hygiene practices.
Scan into places through the NZ COVID Tracer app or keep a good record of where you have been, to support speedy contact tracing.
Full details can be found on the COVID19.govt.nz website.
10 things you need to know about Alert Level 1
Schools are open and must operate safely.
At Alert Level 1 the virus is contained in New Zealand but not overseas. We need to have systems and practices in place in case COVID-19 reappears in our community.

There are no restrictions on personal movement at Alert Level 1 – all children and staff should be at school.
The only people who will need to stay away are:
those required to self-isolate
individuals who health authorities have asked to stay away while waiting for a test result (most people will be able to go back to school/work while waiting for a result)
children, students and staff who are unwell.
Testing remains a crucial component in preventing an outbreak.
If a child or staff member is sick, they should stay home. If they have cold or flu symptoms they should call their doctor or Healthline on 0800 358 5453 for advice about getting tested. If recommended to get tested, they should do so.

Schools will close for cleaning and contact tracing if there is a confirmed case who was infectious when at school.
Your Director of Education will work closely with you and health authorities should this occur. Please contact your Ministry regional office if you hear of a confirmed case in your school community but haven't been advised about it by health officials.

You must continue to support contact tracing through the display of QR Code posters and your visitor register, attendance register and timetable.
If a new case does appear in your community, your contact tracing processes will support the speedy identification of close contacts of the confirmed case. Please encourage your community to check-in using the NZ COVID Tracer app including when they are doing pick ups and drop offs.

There are no restrictions on numbers at gatherings.
Schools, like workplaces are not considered to be gatherings. Physical activities including cultural and sporting activities, practices and events can go ahead.

Fundamental public health measures continue to apply:
Hand hygiene
Cough and sneeze etiquette
Regularly cleaning and disinfecting high touch surfaces.
There are no restrictions on domestic travel.
People should avoid using mass transport if sick, awaiting a result from a COVID-19 test or required/recommended to self-isolate. Individuals travelling to, through and from Auckland by plane are required to wear a face covering.

Face coverings continue not to be required when in school.
This includes school transport and charter buses hired by the school to transport students and staff to and from school. Anyone who chooses to wear a face covering in any setting should be supported to do so.

For more detailed information for Alert Level 1, please refer to our health and safety guidance on our website.
For Auckland region - Things you need to know about Alert Level 2
Please refer to our last COVID-19 Bulletin update on 14 September, which included 10 things you need to know about Alert Level 2.
Gatherings and events
We have had a number of schools asking for further clarification about the rules for different types of gatherings. Events and gatherings continue to be higher risk activities for transmission of COVID-19.
While schools are exempted from physical distancing requirements when people are there to receive, provide, or support education services, all other requirements specified in the COVID-19 Public Health Response orders do apply.
A school ball is a social gathering and therefore the limits on numbers attending, as specified in the health order applicable at the time of the event, will apply (100 maximum in Auckland from 11.59pm 23 September). There are no limits on numbers attending social gatherings at Alert Level 1 (although Aucklanders are asked to take their alert level settings with them if they travel to another region).
For an activity such as a school play or concert, it would be considered an event. The rules that apply to other event facilities will therefore also apply.
For Alert Level 2 they are:
Event facilities can have up to 100 people within any defined space. They also need to assess how many people can safely be inside the premises and still maintain 1 metre physical distancing. This could mean the facility needs to have fewer than 100 people in a defined space.
People attending must keep 1 metre physical distance from people they don't know, where possible — if they can't, they should consider wearing a face covering.
There are specific definitions for what is considered a defined space:
An indoor space or outdoor space is a single space if there are walls (whether permanent or temporary) that substantially divide that space from other spaces
An outdoor space is also a single space if there is at least 2 metres between all people in that space and any other people (outside that space).
The COVID19.govt.nz website has key information on the different requirements for gatherings and events at the different alert levels. If you are hiring a venue for your event or activity, please work closely with the venue to clarify requirements for their facilities.
COVID 19 Important Notice
We are @ Alert Level 2 from 24/09 through to a review on 5/10.
Face Coverings

Are not compulsory at Bombay School. Individuals can opt to wear them.
Are not required on school buses. Individuals can opt to wear them.

Further information on face coverings is available on the

covid19.govt.nz website

.

Returning to school
Every day a young person attends school matters because it:

increases their ability to achieve
provides an important emotional and support network for them, with their friends and classmates
keeps them engaged in learning
gives them direct contact with their teachers
is an environment where the focus is on their safety, wellbeing and learning
helps them feel more comfortable transitioning throughout their schooling journey
is not just now but their future that counts.



Preventing spread

Our school has very good processes in place to continue to keep your child as safe as possible
At Alert Level 2 COVID-19 is contained
However there is still some risk of community transmission at Alert Level 2, so we all need to follow our good practices to keep ourselves, family and whānau safe including:
Washing your hands regularly with soap and water including before and after eating, after blowing your nose, after visiting a public space including public transport, before, during and after caring for a sick or vulnerable person, after using the toilet etc.
Coughing and sneezing into your elbow.
Staying at home if you are sick and checking with your GP or Healthline to see if you need to get tested (a reminder that Healthline is free to call - 0800 611 116 and they have people who speak many different languages).
If you are recommended to get tested please do so – testing is free.
At home, clean your surfaces regularly particularly the ones that are often touched such as taps and door handles.
Keep a physical distance from people you don't know (2 metres wherever possible).
If you are in an enclosed space with people you don't know, such as on public transport, wear a face covering as they can help stop the spread of COVID-19 by limiting the spread of droplets.
A face covering is any material that covers your nose and mouth – such as a scarf, bandana, t-shirt or facemask.







We are delighted to share our 2019 ERO report with you.




The amazing team at our school received a big pat on the back from ERO for their work.



Hearty Congratulations to our 2019 Franklin Arts Festival Winners!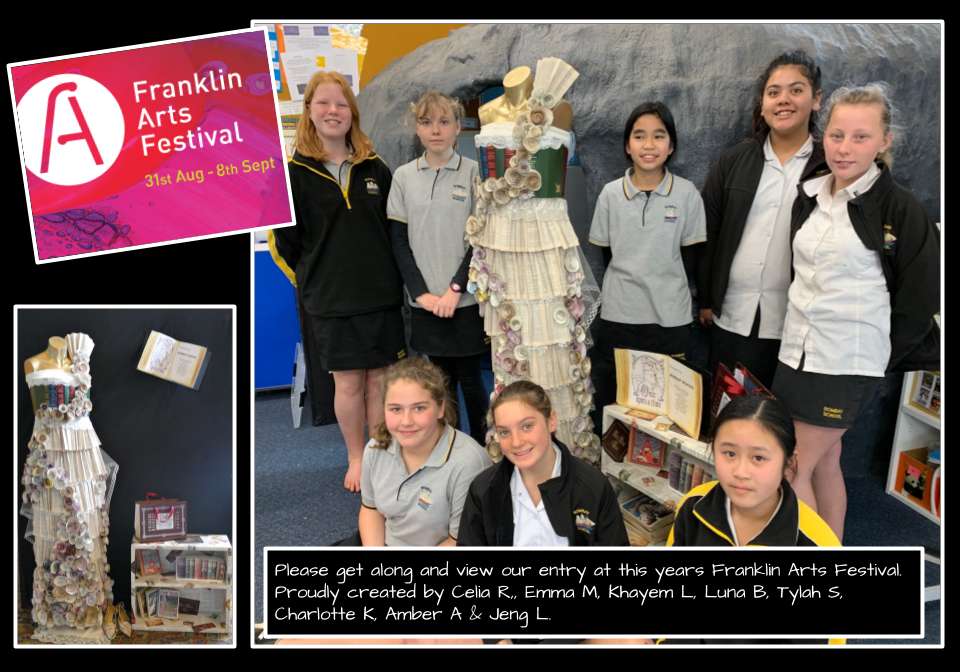 | | |
| --- | --- |
| Term 1 Swimming Sports . Why we become teachers. | |